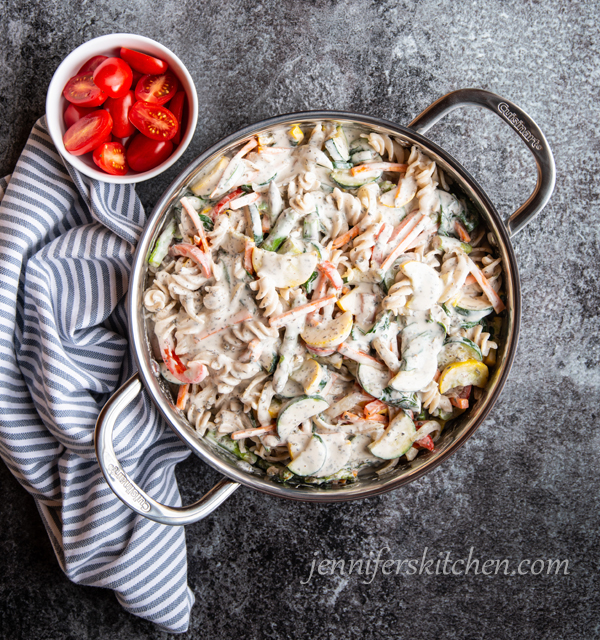 Need a trick for getting more vegetables into your day? This luscious Pasta Primavera is a beautiful mixture of bright and colorful vegetables, creamy sauce, and tender pasta. Just one bite and you'll forget you're eating something healthy! Oh-so-delicious and oh-so satisfying.
Pasta Primavera Gets a Make-Over
Typical Pasta Primavera is very high in calories and unhealthy fats, but this plant-based version is made from healthy, whole-food ingredients and offers a load of fiber for very few calories.
But no worries that it's good-for-you; with tons of creamy flavor, we guarantee that everyone will love it!
About the ingredients in this Vegan Pasta Primavera
Pasta
To keep this dish healthy, I use whole-grain pasta; however, I personally don't like the texture or taste of whole-wheat pasta, so I use Tinkyada Brown Rice Pasta. It's tender and delicious, yet it's made from whole-grain brown rice. Win-win.
I prefer spirals in my Pasta Primavera, but feel free to use any shape you'd like. Note that the shorter pasta shapes tend to toss better with the veggies and sauce than do the longer shapes.
Vegetables
Summer squash and zucchini are the stars of this luscious Vegan Pasta Primavera. Asparagus plays a supporting role and makes the dish very spring-y. Even though spinach isn't my favorite veggie, it tastes amazing with the pasta and cream sauce. And then the onions, peppers, and carrots add extra luscious flavor and color.
Cream Sauce
The cream sauce for this Pasta Primavera is dairy-free and slimming and offers some healthy fats.
Seasonings
Oregano and basil add an Italian flare to the pasta. And the fresh garlic in the sauce . . . just perfect.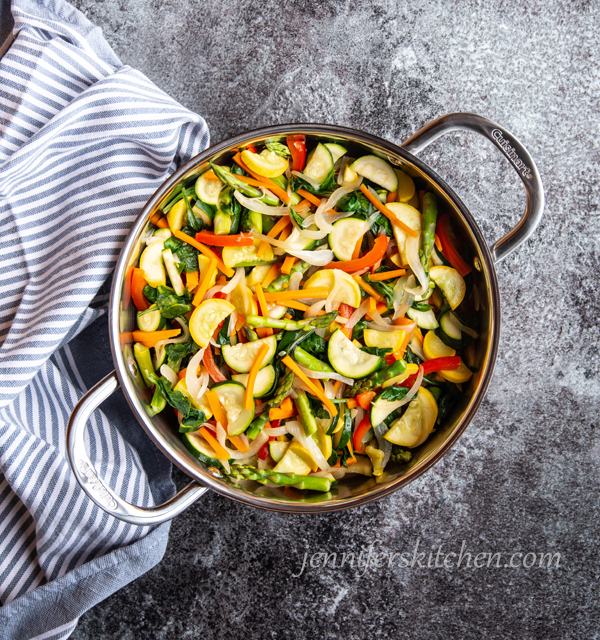 This website is brought to you without annoying ads because we can better live healthier lives without the influence of marketing. But running a high-traffic site is expensive. How can you help? If you purchase anything through the affiliate links on my site, your cost is the same, but I receive a small commission. Thank you!
Substitutions, Customizations, and Variations
The vegetables I included in this recipe are the ones that I think taste best in this Vegan Pasta Primavera, but feel free to vary the veggies according to your tastes. However, I don't recommend frozen vegetables in this dish. They don't have quite the right texture/flavor here.
This dish works great with a variety of pasta shapes, such as penne, shells, or rotini. You can also try other whole-grain pasta brands, but the only brand I've tested this with is Tinkyada pasta.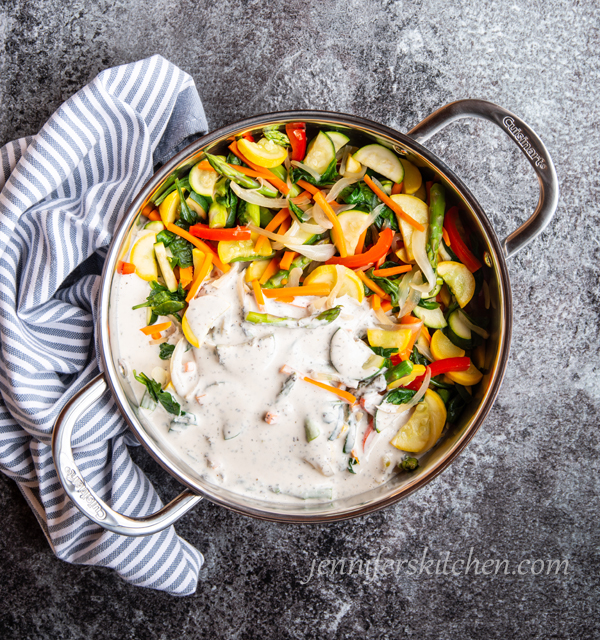 Pasta Primavera Nutrition
This tastes too delicious! Is this pasta dish really good for you? Absolutely! Made from whole-grain pasta and packed with an abundance of colorful veggies, this Vegan Pasta Primavera gives you a load of slimming fiber, health-promoting antioxidants, beneficial phytonutrients, and other valuable nutrients. Vegan Pasta Primavera is one of my favorite ways to enjoy veggie nutrition without sacrificing taste.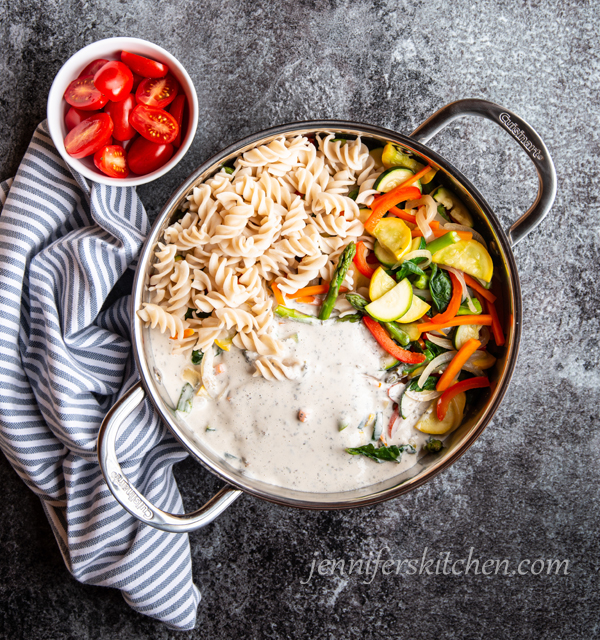 Notes for Making Perfect Pasta Primavera
There are a few things you want to do to make sure your Pasta Primavera comes out scrumptious
1. Be sure to cut the vegetables as directed in the recipe so they cook properly. You don't want to have some of your veggies mushy and some crunchy. To save time, you can chop your veggies while the pasta water is coming to a boil. Then while the veggies are cooking and the pasta is cooking you can blend your sauce.
2. Use good cashews. Some brands of cashews are not properly processed and can have a burning taste. Be sure to get good cashews and wash them in a colander under hot, running water before using.
3. Don't over-cook or under-cook your pasta (or your veggies).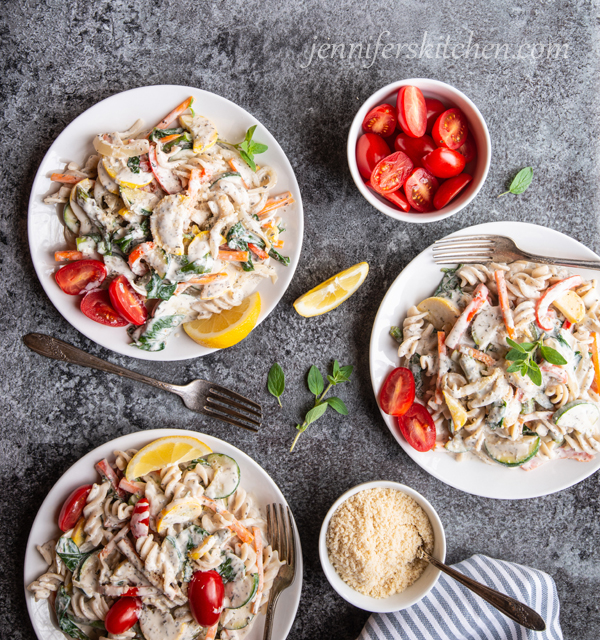 Serving Suggestions
This luscious pasta dish is a meal in itself – no side dishes necessary. But it is delish with some crusty bread. A sprinkle of my Homemade Vegan Parmesan is also yummy on this Vegan Pasta Primavera.
Plant-Powered Pasta Primavera
Yield 9 cups
Gluten-free, whole-grain pasta with tender vegetables get tossed in a creamy, dairy-free sauce to make this luscious and colorful pasta primavera.
Ingredients
8 ounces spiral or small shell pasta
1 medium onion, cut into slivers
1/3 red bell pepper, cut into short slivers
1 – 2 medium carrots, diced small or cut into matchsticks
2 medium yellow summer squash or zucchini, cut into half-rounds
1 cup asparagus pieces (about 1 1/2 inches long) or 3/4 cup green bean pieces
1 1/2 cups fresh baby spinach
1 1/3 cups water (or non-dairy milk)
2/3 cup raw cashews
2 cloves garlic
1 tablespoon tahini
2 teaspoons lemon juice
1 1/2 teaspoons salt
3 teaspoons (1 tablespoon) granulated onion
1/2 teaspoon granulated garlic
1/8 teaspoon celery salt
1 1/4 teaspoons dried basil
1 teaspoon dried oregano
1 teaspoon dried parsley
3/4 cup cherry tomato halves – optional
Instructions
Cook pasta according to package directions.
Meanwhile, in a large pan, sauté onion, pepper, and carrots over medium heat for 4 minutes.
Add squash and sauté for 2 minutes – or until vegetables are al dente.
Add green beans or asparagus and spinach. Sauté until spinach is wilted – about 2 minutes.
While vegetables are sauteing, place water (or milk), cashews, garlic, tahini, lemon juice, salt, granulated onion, granulated garlic, and celery salt in blender and blend until very smooth.
Add basil, oregano, and parsley and pulse just to mix. (Do not puree seasonings).
Pour blender mixture into vegetable mixture when vegetables are done. (Vegetables should be tender, not soft or mushy.) Cook, stirring constantly, until thoroughly heated.
When pasta is done, drain and stir into vegetable mixture.
Adjust salt to taste. Serve hot. Top with cherry tomato halves if desired.
One quick request: if you like this recipe, please leave a rating and a comment. Ratings help more people find these healthy recipes!
Notes
If cutting carrots into matchsticks, allow a few extra minutes for prep time.
Make-Ahead Tip:
Both the sauce and the vegetables can be prepared (up to 2 days) ahead of time and kept in the refrigerator (separately) until ready to use.
* * * This recipe for Plant-Powered Pasta Primavera  is . . . gluten-free, plant based, oil-free, sugar-free, high in fiber, dairy free, egg-free, vegetarian, vegan, and made from real, whole foods.
Popular Posts